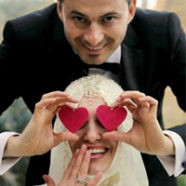 Allah has sent us in this world as humans and asked us to seek all that is good and reject all that is bad. Of all the good that we are made to seek, one of the most important is to make others happy and be a source of them smiling and laughing. Indeed the most prominent of the Muslim Ummah who would always smile and stay happy was the Holy Prophet (PBUH). He would accept life's challenges and always try to follow the right path whilst staying happy.
That is why Allah has asked us to do the same. Allah has said in the Quran "With hardships comes ease" and He requires us to face both along with our life partners. Muslim marriages encompass understanding, patience and being by each others side in easy and difficult situations as did the Holy Prophet and his wives. That is why the habit of joking worth your spouses is so very important.
Laughing and joking with your wives and your husbands has the power to diffuse tensions, feel at ease and get less stressful in the everyday craziness and difficulties that life has to offer. Allah has stressed the importance of staying happy and following the straight path in the face of all calamities.
The Holy Prophet (PBUH) used to transfer his good mood onto his wives often. He would joke around with them and always made them laugh, so much so that he was nicknamed ad-dahhak – the smiling one. He would not let the difficulties of life get to him as he would carry a cheerful stance. He had once said  "I joke but always tell the truth." Hazrat Ayesha narrated numerous incidents in which he joked and made her laugh, "he was always making us laugh in the house." She had said.
Smiling, laughing and joking with your better half also makes the relationship of the Muslim Marriage bond stronger and more lovable as both the husband and the wife realize that their respective spouses care for each other if they are willing to make them smile after a hard day at work! It also tells them that they are following Allah's commandment of making their marriage a beautiful love story and living in "peace and harmony" and for that they will attain Jannah.
So let's not let the complications and this imperfect life get to us. Let us smile and make our husbands and wives smile too. Let us make it a habit to joke with them. It's Sunnah!