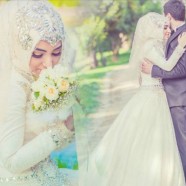 We, in Islam, are taught to marry a person we are confident will take us to the right path holding our hand in theirs. We are asked by Allah to marry a person with Islamic imaan so that not only in this life, but in the Hereafter as well we are blessed with the same person by our sides.  That is why we look around with such dedication and seriousness when we are to chose a life partner for ourselves. Allah has asked us not to take the decision lightly and the Prophet Mohammad (PBUH) has even said in a tradition to look at the person before marrying and have each other's complete consent.
However, when we are looking for our perfect match in Islam, we should not only consider the qualities of the person we seek but also look at our own quantities and see if they reflect themselves in that person's. Are you both compatible in your beliefs? Are you both on the same wavelength? Are YOU the person that you wish to marry? If the answer to all these questions is YES then by all means go ahead and marry that person.
Following are a few qualities that should be present in your to-be spouse but ALSO in yourself for the marriage to be successful. It takes two to make a relationship work and two to take it successfully towards the path of Jannah. So try to be the person that you wish to marry!
Be strong in your faith towards Allah, fear Him as well as look for a strong faith person to spend the rest of your life with, What a shame it would be if you both are not in heaven together?
Have patience, be understanding and be modest as well as look for a person who has the same qualities. Let those qualities strengthen your own.
Be responsible in your duties and obligations and find someone who is serious about theirs. It may not be at the same level but at a balanced level enough to work for your relationship
Have modesty and lower your gaze in front of the opposite gender. Observe the same qualities in your to-be spouse. If they have it, they are the ones for you!
Maintain prayer and ensure your life is for the sake of Allah and to enter Paradise. Nothing else matters. Look for someone who shares this belief of yours and you shall live together in harmony always.
You can't expect perfection in your spouse. But you can ensure that their thought processes, their beliefs and their convictions match with yours. All that you are looking for in a spouse you should have too. It is unfair to have a hundred expectations from your to-be-spouse and not to fulfill them yourself.  Be fair in your judgments and ask of Allah for the best. And Allah will InshaAllah bless you and your marital life.